Omar Chacon has a passion for art and amidst the stay at home order he continues to make paintings from his home studio in Queens, New York.
Omar Chacon was born in the beautiful Andean city of Bogota, Colombia. He received his MFA in painting from the San Francisco Art Institute and then moved to New York. Omar continues to be influenced by his Colombian roots but is proud to call Queens his home where he has lived for 16 years.
Omar loves living in Astoria, Queens. "Queens is the most diverse community in the world, You have people from all over the world and it's wonderful!" It would be an understatement to say Omar is enthusiastic about visiting the neighborhood restaurants. "In a three block radius, I have Japanese, Brazilian, Chinese, Spanish, Greek, Colombian, Turkish, Palestinian, Indian, Pakistani, Thai, Italian, Mexican, and it is amazing! It is sad though to see all the shops and restaurants closed at this moment".
Omar's passion for life is reflected in his paintings. His use of patterns and exuberant color combinations function as a visual metaphor for this multicultural world.
Omar has a masterful skill with acrylic paint. He explores the boundaries of the material far beyond traditional applications and transforms the acrylic paint into pliable building blocks which then become the basis of his paintings.
A brush is never used; instead Omar creates his complex constructions with clever techniques maximizing the plastic nature and vibrant color potential of acrylic. The paintings remain first and foremost paintings, yet their three dimensional physicality ventures into the territory of sculpture and collage. Here is Omar looking through his Flatfile filled with his works on paper…..
and check out this just finished large painting on canvas!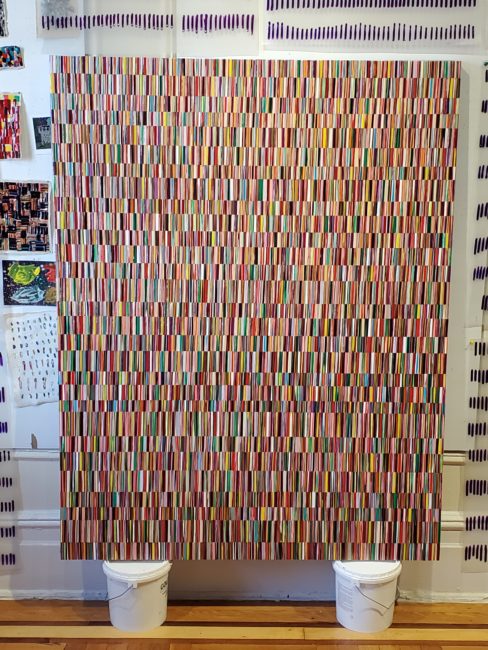 Click here to see more of Omar's work.