Babak Kazemi
Born 1983 in Ahvaz, Iran. Lives in Tehran, Iran.
Using traditional and experimental techniques the artist creates photographs influenced by growing up in south western Iran, an area rich in oil but devastated by war.
With the series The Exit of Farhad and Shirin,  Kazemi remembers The tale of Shirin and Farhad.  A love triangle – Farhad a stone mason and King Khosrow are both in love with the beautiful Shirin. The artist revisits  the 16th century tragic love story in order to comment on the struggle and forced migration of those who must leave their homelands to find the freedom to love. The work is also symbolic of the suppression that men and women still endure today. Ultimately, however, Kazemi's message is that love can overcome even the most difficult situations.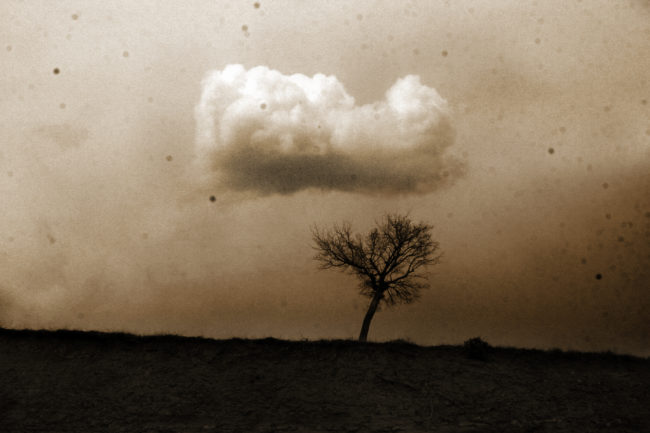 Babak Kazemi, Past Continous Tense 2, 2009, 26″ x 39″, C print
While on a bus trip between Ahvaz and Tehran the artist talking on his cell phone with a friend remembers saying, "There's this very beautiful cloud in the sky right now – I wish you were here to see it with me."
In his poetic Past Continuous Tense Series, Kazemi superimposes a cell phone photograph of a cloud on various war torn locations in southern Iran. The result is these very real places appear imaginary.