It is always exciting to visit Omar in his studio in Queens, NY and see what he is up to. The work is consistently changing and we love to talk up new ideas and themes for upcoming shows. It has been very rewarding to see his work evolve over all these years.
Originally from Bogota, Colombia, Omar Chacon received his MFA in painting from the San Francisco Art Institute in 2004. I first met Omar towards the end of his master program and we have been friends and colleagues ever since.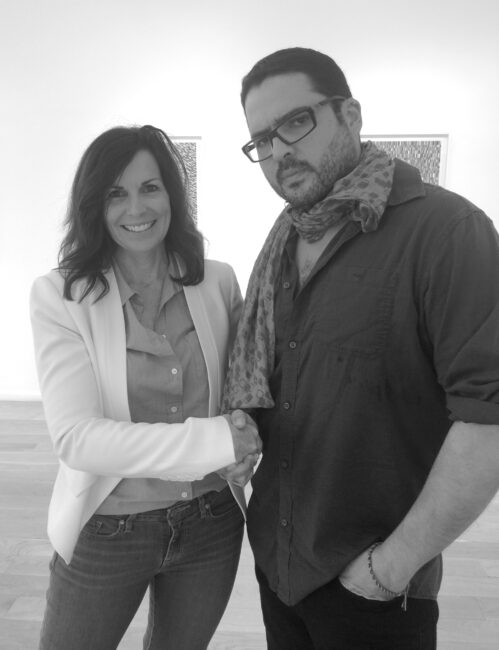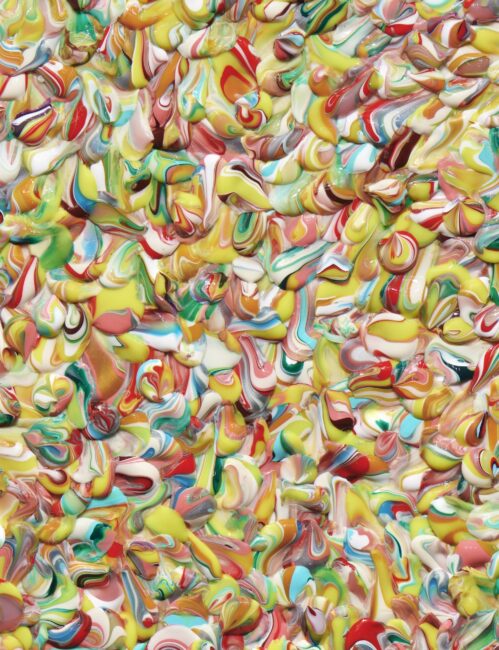 detail of Cirio, 2023, acrylic on canvas
Omar has always been fascinated by the rich diversity that exists across cultures, and with a passionate and intuitive nature, he uses his art practice as a way to process the world around him.
"I like to think of weaving cultures together through my mosaic-like process…it's all a journey for me of where I come from and my attraction to other cultures."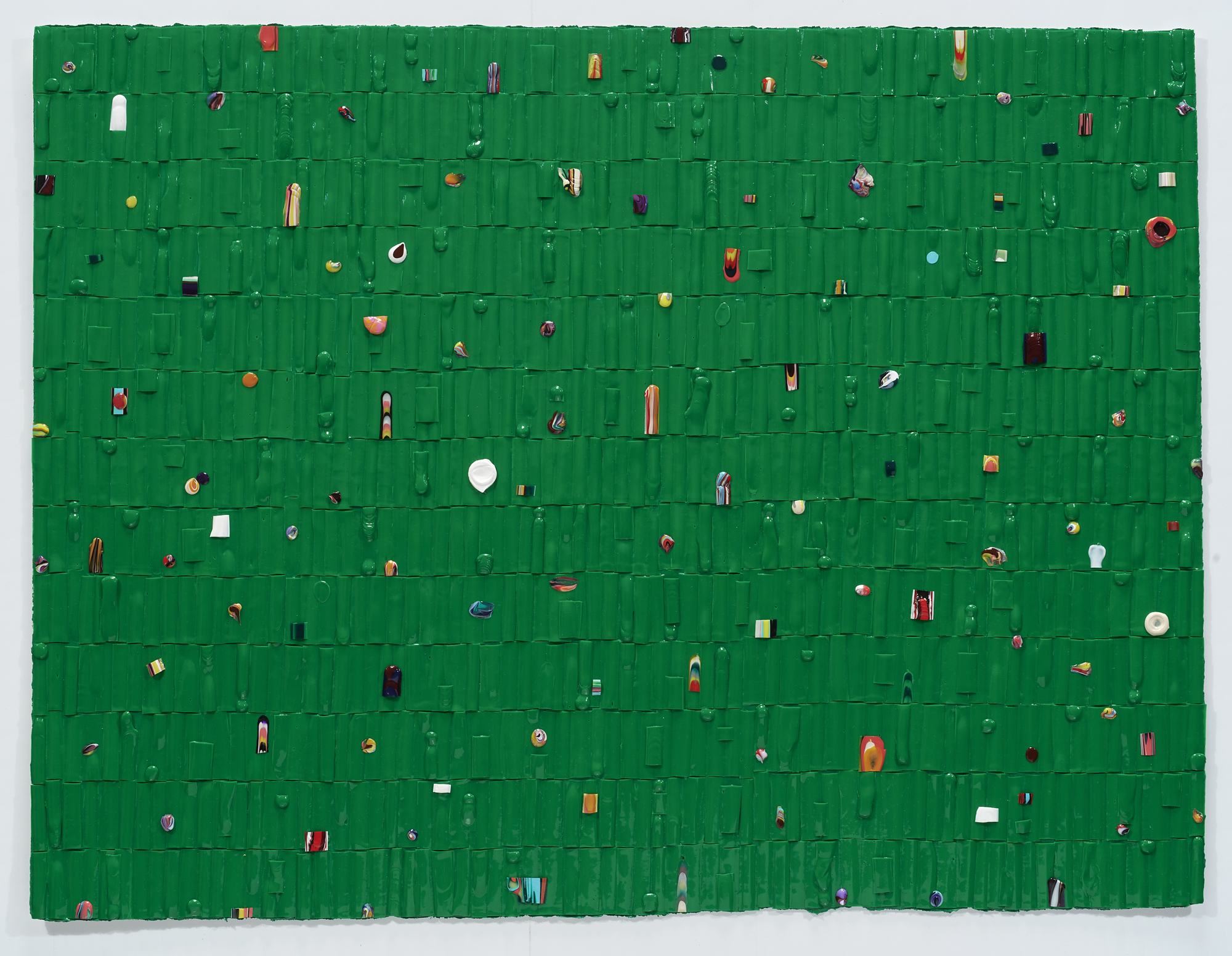 The colors for his recent work were inspired by a trip the artist took to France. The verdant burst of colors along the Seine River, the warm glow of the afternoon light, the fields of sunflowers
"reminded me of why the impressionist painters wanted to be outside painting en plein air in the French countryside…truly beautiful!"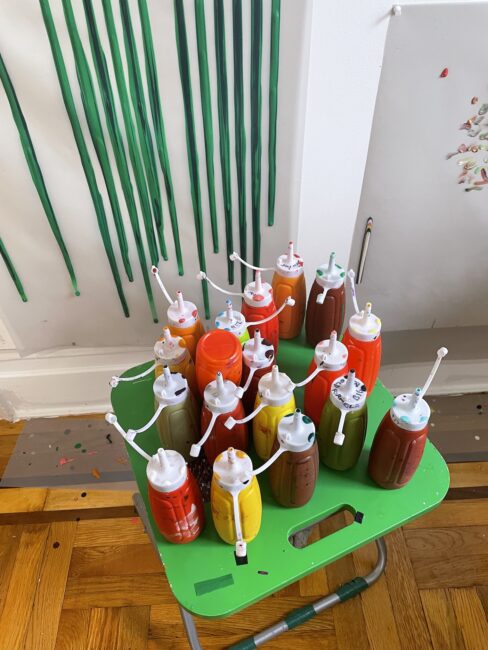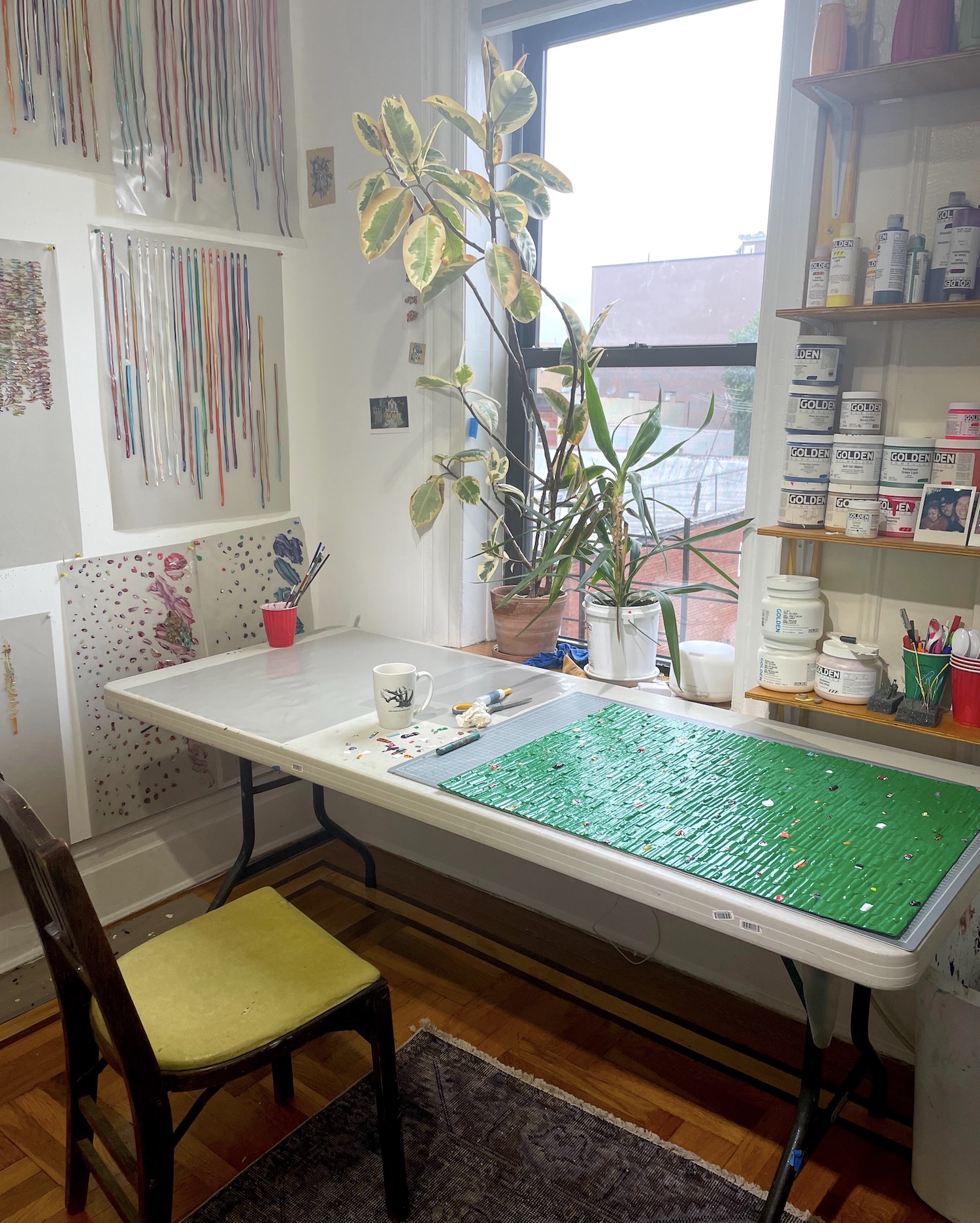 Chacon begins by pouring a mixture of acrylic paint and medium onto a surface to dry. He sees each pour as a unique and individual brushstroke that he then arranges on a canvas to create his paintings. He has invented his own paint formula – and found innovative ways to build layers, color combinations and compositions.
The paintings remain first and foremost paintings, yet their three dimensional physicality ventures valiantly into the territory of sculpture and collage.
In recent years with the desire to reduce waste he is using all the paint pieces including ones that are irregular, not perfect. "The Imperfection is what gives you beauty". And in using all of the parts, he is telling a more nuanced story.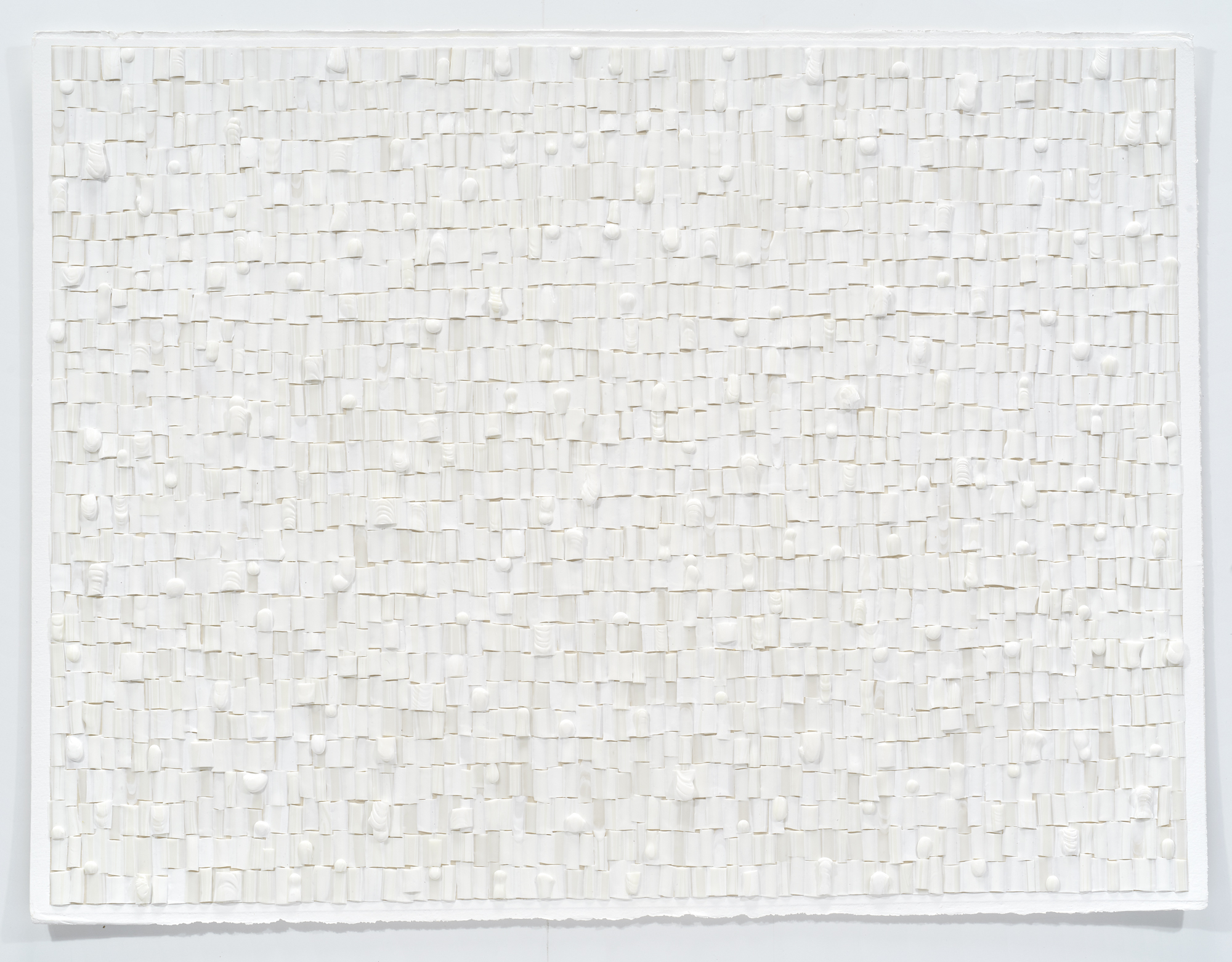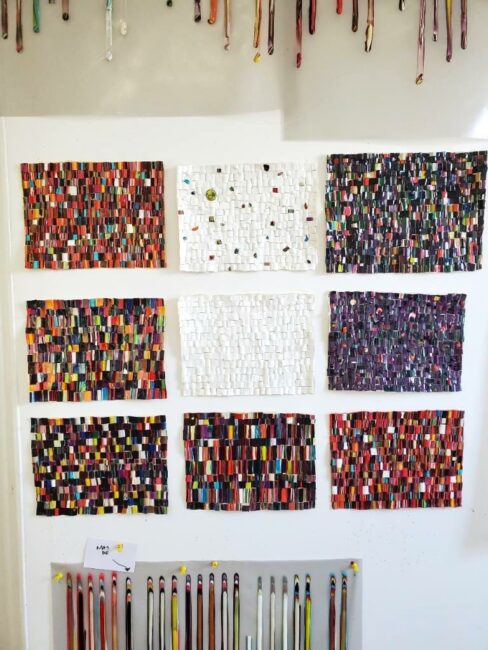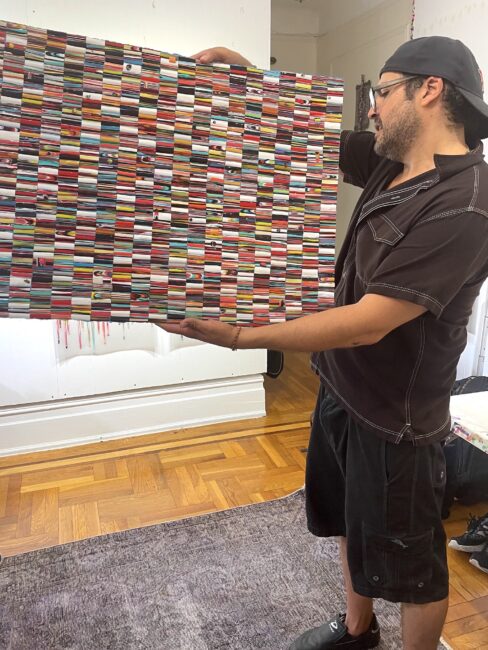 Omar with new work on paper
Family is very important to Omar. While in art school, Omar became captivated by the paintings of his maternal grandfather, Mario Suarez Negrelli. Mario was a self-taught artist and though he made only seven paintings in his lifetime, his passion for art imbued his spirit. These paintings directly inspired Omar's own artistic path, and has been a continuing muse for his evolution with abstraction.
Many of the titles for The Sin Seine series were inspired by a Colombian poetry book that was Omars fathers from long ago. The titles also hint at ideas from our complex history and issues in current times.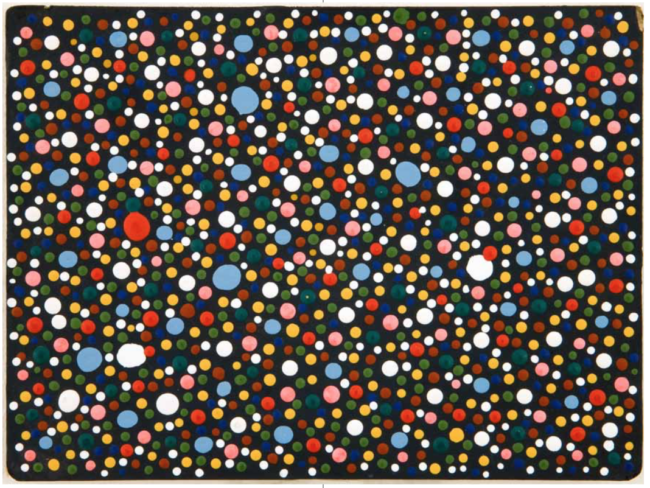 artwork by Omar's grandfather, Mario Suarez Negrelli.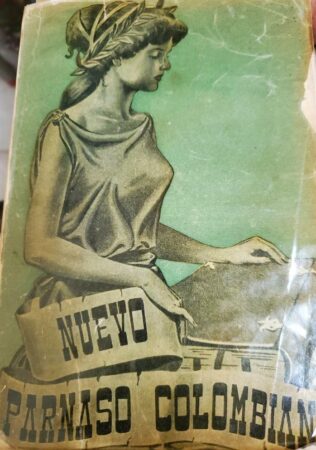 Omars Fathers book of Colombian poetry.
Omar's Colombian roots run deep, and his paintings mirror the colorful textiles of the ancient Chibchas, Tairona, and even the mighty Incas. Omar is eager to absorb the rich flavors of the world, and through his process of making vivaciously colorful paintings he is finding a place for the personal and the universal to interact.